Solar LED strip light flexible silicon coating IP65 solar LED Tapes RGB Warm white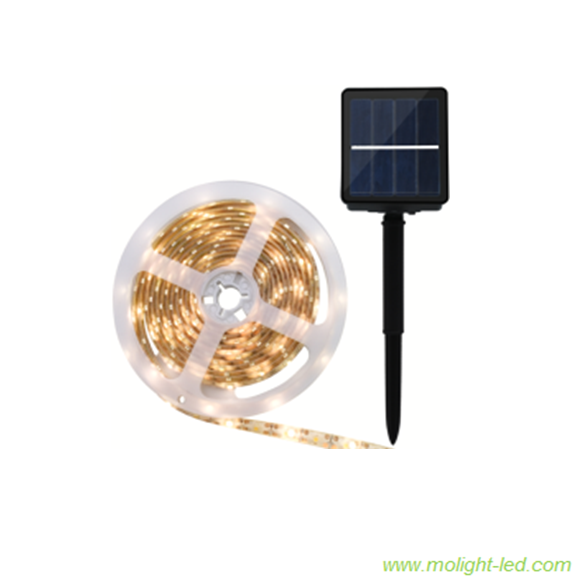 Solar LED strip light flexible silicon coating IP65 solar LED Tapes RGB Warm white, it can be fixed/installed with the backside 3M adhensive;
Dimension of solar Flexible LED strip: 8mm width*length 3m (silicon coating IP65)
illumination color: RGB/Warm white 3000K
Quantity of LEDs: RGB 90LEDs (30LEDs for Red, 30LEDs for Green and 30LEDs for Blue) / Warm white 180LEDs
Solar panel: 2V/350mA, NI-MH AA Rechargeable battery: 1000mAh
Recharge time:4 - 5 Hours
Working time:10 - 12 Hours
Length of wire:150cm waterproof wire
Mainly color of housing:Black solar panel+White PCB board for LED strip.
light control: automatic charging by sunlight, and working;
ON/OFF switch control: daily lighting + 7 types of flashing light mode selection;
mode memory function, with ground plug and extension wire;
Installation:
The solar panel MUST be installed in a well-lit location where it can receive maximum sunlight during daytime hours. Any cover that shades the panel will affect its ability to absorb sunlight and decrease the amount of brightness and duration of the LED lights. The lights and solar panel box are all weather devices – They should not be affected by exposure in rain, snow or temperature. The string of lights can be hung on tree branches, bushes,roof, eave, fence or any other places you wish.
This version of the Solar Powered Lights comes with an ON/OFF switch that allows you to manually turn on the lights whenever you want. What is more, there is a another button (MODE) give us the choice to choose between flashing lights or a continuous light.
Note: The flashing mode will save more energy, so the lights will last longer.
The solar panel box can be placed on the ground by using the pointed stake.
Install the stake into the ground until it is firmly in place. If the ground is too hard, soak the area with water to soften it. Please make sure that the solar panel is pointed toward the sunlight. At least 6 hours of exposure to sunlight is required for illumination. The lights can illuminate for 6-7 hours if the solar panel is charged in optimal lighting conditions.
Although the solar panel will continue to collect energy in cloudy, rainy or snowy days, but it will diminish the ability to accumulate energy and the duration of the illumination. For example, a bright cloudy day can provide minimum 3 - 4 hours of illumination, while a rainy or snowy day can only provide up to 1 - 2 hours of illumination.
Inquiry
We are exporting LED prodcuts to all over the world, please don't hesitate to contact us for any inquiry or suggestion, and you will receive our prompt reply within 24 working hours.